9/11 truth
Ever since the dreadful events of 9/11, I have been somewhat sceptical about the official version of events. There are so many inconsistencies that you wouldn't believe it.
Some have labeled me a conspiracy theorist, but I'm nothing of the sort. I have only been looking at the evidence in the public domain and the official 9/11 Commission Report. They do not add up!!!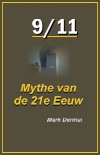 There are already numerous websites in English that strive for truth about 9/11 and believe the whole episode to be a cover up (so do I), so I created my website only in Dutch. I compiled all the evidence I could find and put it together in a 190-page book (also in Dutch), aptly titled 9/11: Myth of the 21st Century.
I also took part in the debate in the European Parliament on 26th February 2008, where the new documentary 'Zéro' was shown.